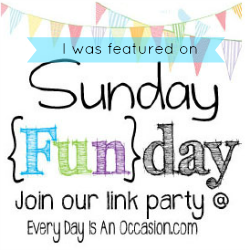 I'm excited to share Norma from Pink Bling Crafters card with you today!!!
Look at the gorgeous outside of this Mother's Day card…
Love the colors, patterns, and those edges are gorgeous!
If the outside wasn't enough…….Check out the pop out….
How cute is this?
Love that dress form!
It makes me want to go and pull out the dress form die I have and make a card!!!
For more details on Norma's card go here.
Come see more inspiration and link up your creations at Sunday Funday!
Have a super day!!!