I shared this Paper Bunny Hat with Core'dinations a month ago and so I thought I would share it with you too! Today, we are going to make bunny hats! Get excited! They are super simple! When I was a first grade teacher, my students LOVED making hats for any occasion. So, now that I have my own kids I had to make the hats with them, especially now that my daughter is BIG into dress-up clothes.
Paper Bunny Hat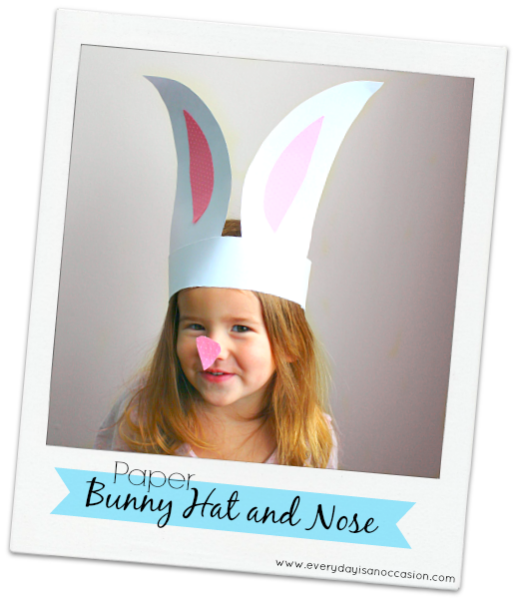 I know they have those $1 bunny ears out there made of fabric, but these are really fun to  make to help keep your kids busy on those freezing snow days we've had! My daughter had a blast making these and especially wearing them! Now,  I know you may be thinking, "She's two. How did she make those?" Well, she was mostly the assistant. In my humble opinion, I believe that getting kids helping at a young age helps them feel confident with Arts and Crafts.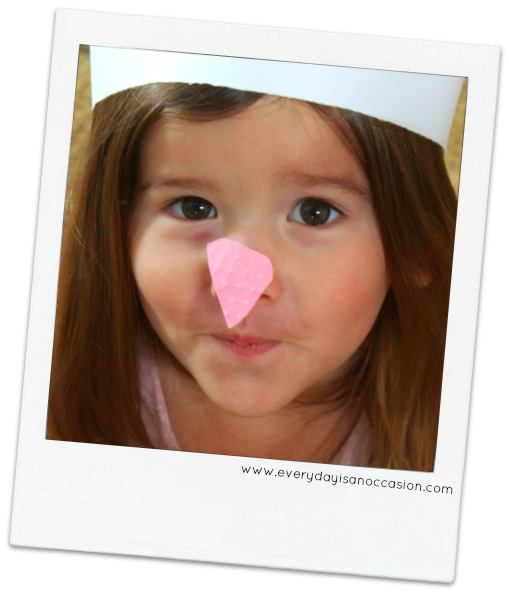 How to make Paper Bunny Hats and Noses:
Materials:
4 pieces of 8 1/2 x11 White Core 110lbs
1 piece of 8 1/2×11 Solid-Dyed Core -World Tour pack (pink from the pack)
Swiss Dots Embossing Folder or any dotted embossing folder
Cuttlebug or your choice of embossing machine
Ear Template- hand draw
Inside Ear and nose Template – hand draw
Xyron Double sided tape
Steps:
1. Draw a bunny ear on the 8 1/2 x 11 piece of White Core. Cut out and use as your template for the White Core. This does not have to be perfect, it's just for fun! Trace onto two pieces of the White Core and cut out.
2. Draw a similar shape but smaller on the white paper. Cut out and use as your template. These do not have to be perfect. It's just for fun! Then trace onto the Pink Core and cut out.
3. Take one piece of 8 1/2 x 11 White Core and fold in half, hot dog style, then fold again so you have 4 pieces. Cut these out. Tape together measuring your child's head. This will be the head band.
4. Put Pink Core into Swiss Dots Embossing folder and then sand the dots.
5. Tape the Pink Core onto the inside of the bunny ears.
6. Tape the bottom of the bunny ears to the headband. *Quick Tip* If you roll the bunny ears up and let it go. It will help make the ears come forward for a cute look.
7. Use scotch tape to put the bunny nose on your child's nose.
8. Enjoy!
Here are the templates I used below in case you want to use them. Just right click on the image and save to your computer and then print.