Who loves throwing parties? This girl!! Especially when it is for my sister-in-law and brother! I am SUPER excited to be an AUNT!! So, a great family friend (you might remember this baby shower onesie favor I created for her son's shower we threw) and myself are throwing a baby shower for my sister-in-law and brother. I cannot wait!! My job in the "shower throwing" is the creative part! So, my first task was to create the invitation. Here it is….
Green Foiled Baby Shower Invite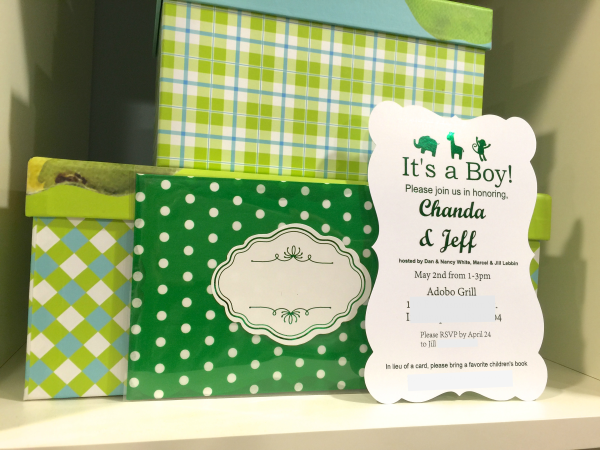 I just got Heidi Swapp's new Minc Foil machine! I am kind of obsessed with it. You can check out how it works in my How to Gold Foil Your Own Artwork post. My kiddos and I made a quick video to show you how to use it! They love it too!

So, when I had to come up with an invitation, it was only natural for me to want to foil it! I used my Silhouette to design the card (I used the print and cut feature). I actually printed it first on my inkjet printer and then took that copy to my local Fed-Ex office to get it laser printed. The Minc machine will add foil to any laser printed design. Then I brought my copies home and cut them out using my Silhouette. Once they were all cut it was time to add the green foil. My brother and sister-in-law's nursery they designed for their baby is green with animal silhouettes. So, of course I chose the green foil! I was a little nervous at first because I wasn't sure if the green foil would adhere to the tiny words, but it totally did! I couldn't believe it!
For the envelope, I decided to use a clear one. I used a 4×6 Clear Bag from Hobby Lobby. You can get them in the photo section. I used a green and white polka dot party favor bag from Target. So basically I put the invitation in a favor bag. lol! Then I put the favor bag in the clear bag!lol! I think it is a fun and unique way to send an invitation.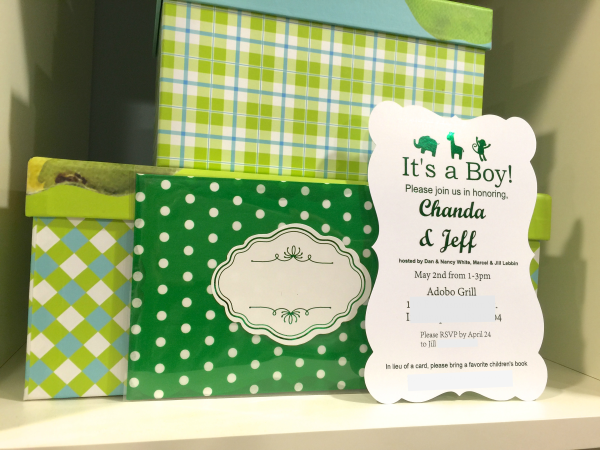 To address the envelope, I used Heidi Swapp's labels. You guessed it…I green foiled the labels too! Then I used a Fine point Sharpie Marker to write the addresses.
*****An important tip when mailing plastic envelopes like this….you have to add 21 cents to a regular stamp. There is a charge for hand-feeding the envelopes through the postal machine.*****
To purchase Minc supplies and the Minc Machine come check out my Etsy Shop!