Today I was on our local news WSBT sharing how to add some home made touches to Father's Day gifts. First of all, I have to say, going on WSBT is so much fun!! I am so honored that they have me on. I ALWAYS have an absolute BLAST!!! Today was Kristin Bien's first Saturday back from Maternity leave. It was so nice to see her! While she was gone Denise was the one who would interview me and she was lovely too! Seriously, everyone is super nice!!
Behind the Scenes on WSBT
I had to take a Behind the Scenes Selfie! lol!!  A little behind the scenes info…. I was super nervous my mic pack would fall off because I hooked it onto the belt on my dress and it was pulling on the belt. I taped it on, and then it started to pull my dress down! Lol! I did not want a Janet Jackson Super Bowl moment, lol!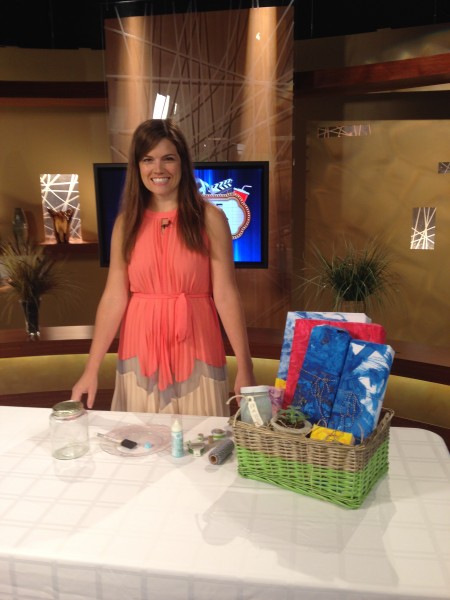 More behind the scenes info- I got my dress at Flourish Boutique it's called The Dripping in Compliments Dress in Coral. You guys know how I love Flourish Boutique. If not, you can check out my Flourish Boutique experience where I met Miss Indiana and was in a Fashion Show all in one day.
Father's Day Home Made Gifts
As promised from my post yesterday , here are the craft ideas I shared on WSBT.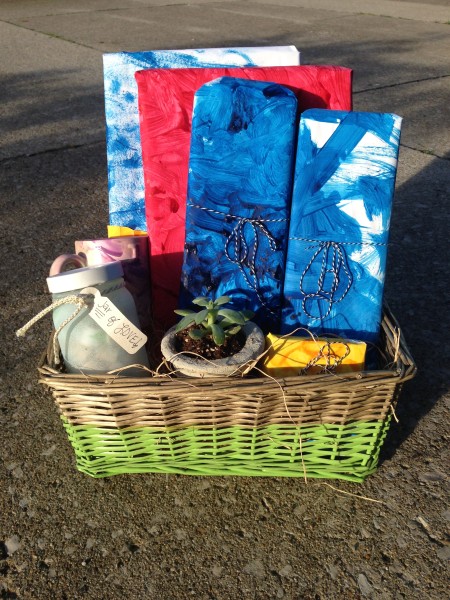 I like all different skill levels of crafts. When going on tv I like to create projects that anyone can do. That way if you are a beginning crafter or just want to add a touch of home-made without getting too crafty or if you are in a hurry or creating something last minute you can recreate my ideas. The best is when people take what I have created and make something even more fabulous! I love inspiring people like that!  It's the best!!
Cement Planter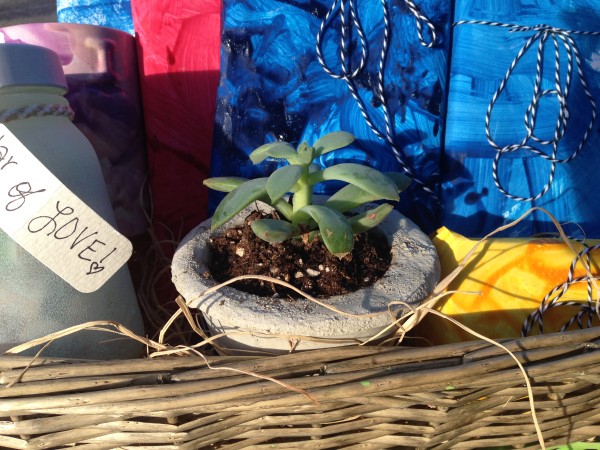 Above is a cement planter that I created  because the plants in my husband's office always seem to die. I thought this succulent would have a chance of living since he doesn't have to water it too often.
Materials:
 CEMENT-ALL from Home Depot
water
cooking spray
2 plastic bowls or 2 silicone bowls- one smaller than the other (the more interesting looking the better)
wooden skewer
Steps:
1. Take 4 cups of cement and one cup of water and stir in a bucket or plastic container. It will be ready when it has a cake-batter resemblance
2. Cut a hole into the bottom of smaller bowl.
3. Spray Pam or a cooking spray onto the inside of your plastic container and the outside of the smaller container
4. Pour Cement Mixture into larger bowl.
5. Take smaller bowl and place inside of larger bowl and put wooden skewer inside the hole of the smaller bowl and push all the way to the bottom of the second bowl. This will create a drainage hole for water to come out.
6. Wait one hour.
7. Take planter out and plant succulent inside.
8. Enjoy!!
Jar of Love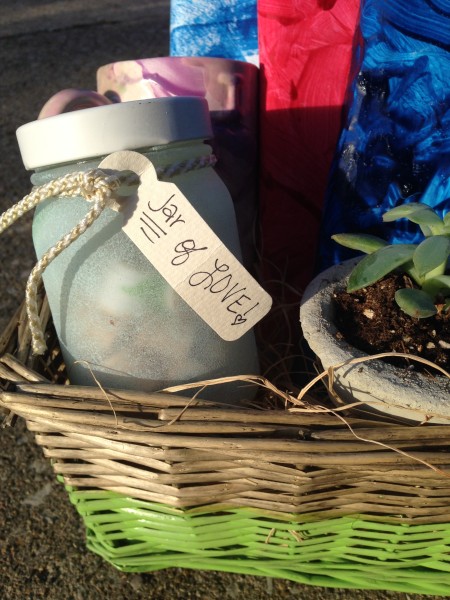 This Jar of Love is a sweet gift to show Dad how much you love the little things he does.
Materials
Martha Stewart Frost Translucent Paint (available at Michaels in the specialty paint section)
Old Jar- washed out
white spray paint
foam brush
wooden spools
cardstock cut to 1/2in.
washi tape
Steps:
1.Using your foam brush, paint on the Martha Stewart Paint. You really can't go wrong with painting this. That's why it is a great craft for kids to do. You can sponge paint the jar by dabbing the paint on or you can use brush strokes. I recommend waiting about 1 hour and then painting a second coat if you end up using brush strokes. If you sponge paint it you might not need a second coat.
2. Spray paint jar lid white while you wait for the jar to dry.
3. Cut paper into 1/2 in strips while you wait for the jar to dry.
4. Have your children write sweet messages of what they love about their Dad onto the pieces of paper or if they are younger you can write what they say on the paper.
5. Tape the messages onto wooden spools and wrap them around the spools
6.Tape the end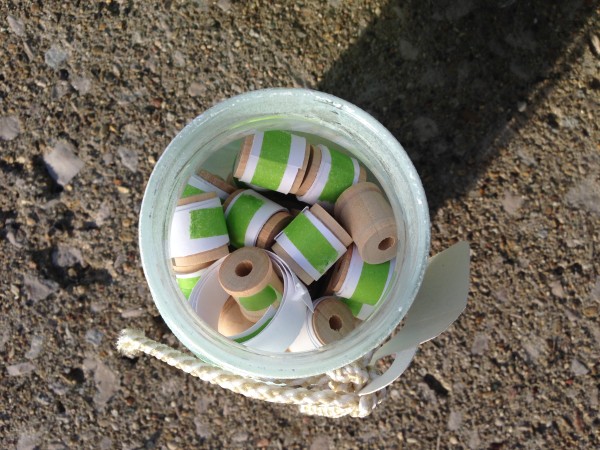 7. Place in jar
8. Wrap yarn or twine or rope around the outside of the jar with a tag for Dad
Artwork Wrapping Paper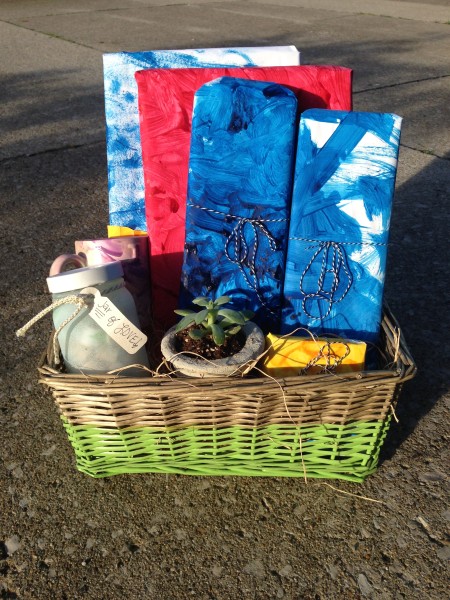 Here I used my son's artwork to wrap the shirts, ties, and cuff links we got for our Daddy. If you don't have any artwork lying around, you could create your own by using a large piece of white paper and paint or even markers. You could also use a large piece of newspaper and decorate the newspaper. I then wrapped twine around the presents.
How do you celebrate Father's Day? Do you have any special traditions?