Living in Notre Dame Country is fabulous, unless you are a Purdue fan, lol! Just kidding…My husband and I really do like Notre Dame. Some of our friends work at Notre Dame, our cousin currently goes there and we have relatives that have graduated from there. We always cheer for Notre Dame, but our alma mater is Purdue. So, if you are looking for a child's Purdue shirt in the midst of Notre Dame Country it can become a bit difficult, lol. Therefore, my daughter and I decided to make one. The good news is that this method could be used for any reason… a high school event, a kids craft party, etc…
Decorate Your Own T-shirt the Easy Way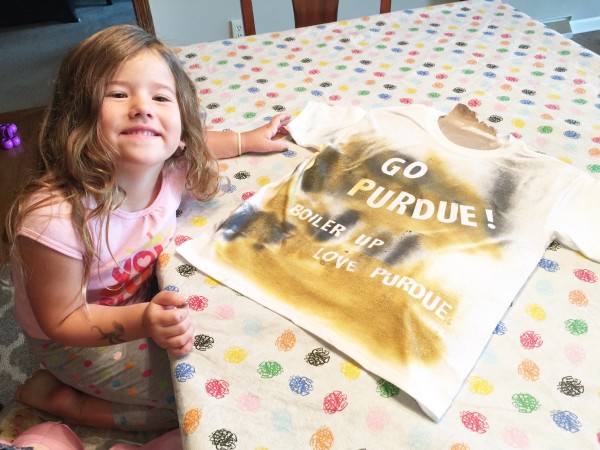 My daughter was the creative director for this project. Can you see that smile?!
We posted a "How To" on Periscope 
If you missed it here are the directions: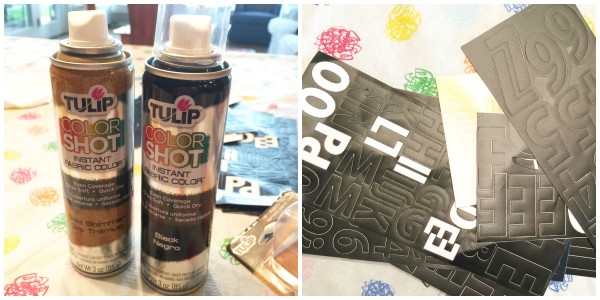 Materials:
T-shirt
Wax Paper
Tulip Color Shot Spray- purchased at Michaels
Elmers Removeable Letters-(Purchased at Michaels in the aisle with the poster board)

Steps:
1.Place wax paper inside your shirt so that the color shot spray doesn't bleed through
2.Place removeable letters onto your t-shirt
3. Use Color Shot over letters
4. Peel Letters off
5. Allow to dry for 24 hours
6. Enjoy!