Hello and welcome to a Lovely Blog Hop!
 I am kicking things off today and I am so happy you joined us!
We have some very talented ladies in our line up today and we hope you enjoy our projects! As I'm sure you can guess, the theme of our hop is a Valentine theme. Each one of us has come up with a valentine project to share with you.
Today I'm going to share how I decorated my mantel.  Now you may remember the Valentine Fireplace Mantel that I decorated with the wreath Holly sent me for Craft for a cause, check it out here if you need to be brought up to speed. Since it was only short term, I had to come up with something else. So here is what I came up with….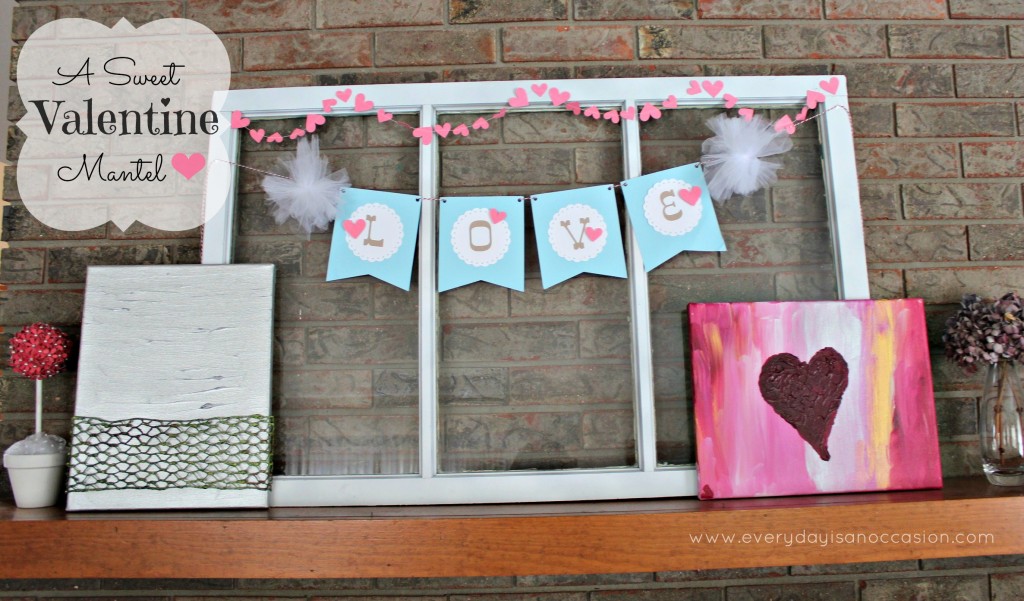 The white window I salvaged from our lake cottage. I brought it home, sanded it and painted it a bright white. I absolutely LOVE having it up on our mantel. When I nabbed it up, everyone thought I was crazy, but now that it's up there. They are all jealous!
The two paintings are canvases that I painted a long time ago, even before I met my husband. I painted them to decorate my house. To be honest, I think painting canvases is the best way to decorate a house. They are meaningful because you put your heart into it, they are inexpensive, and easy!
So on to my  trusty topiary. I created this last year and it was a big hit. It stored nicely, so I pulled it out again! Details on my old blog here.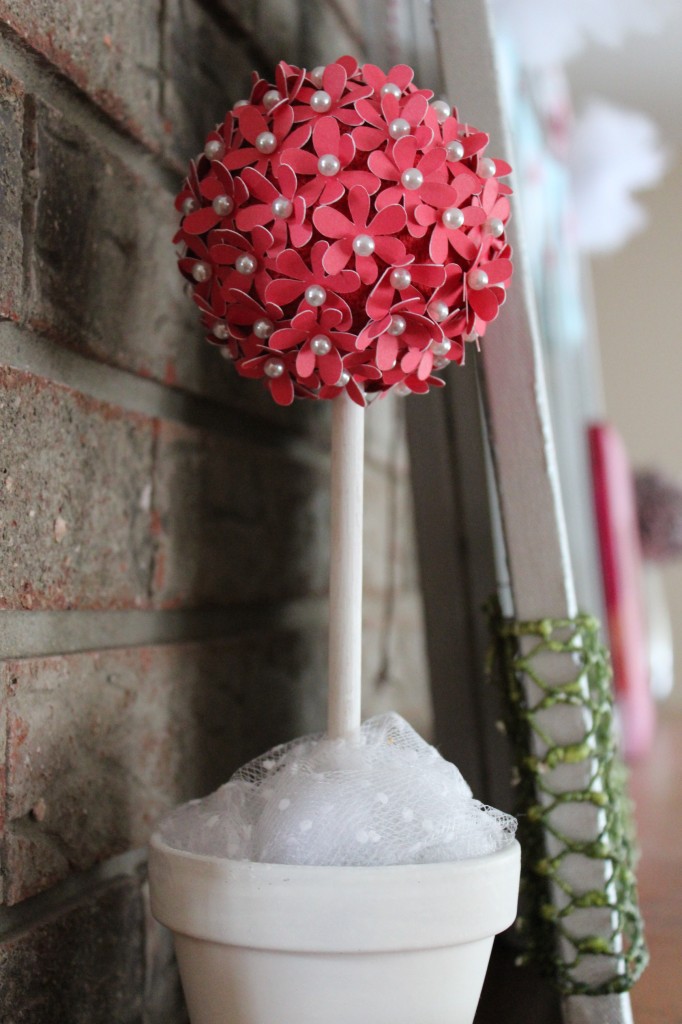 The LOVE  banner is a Silhouette cut and I got my inspiration  from their blog.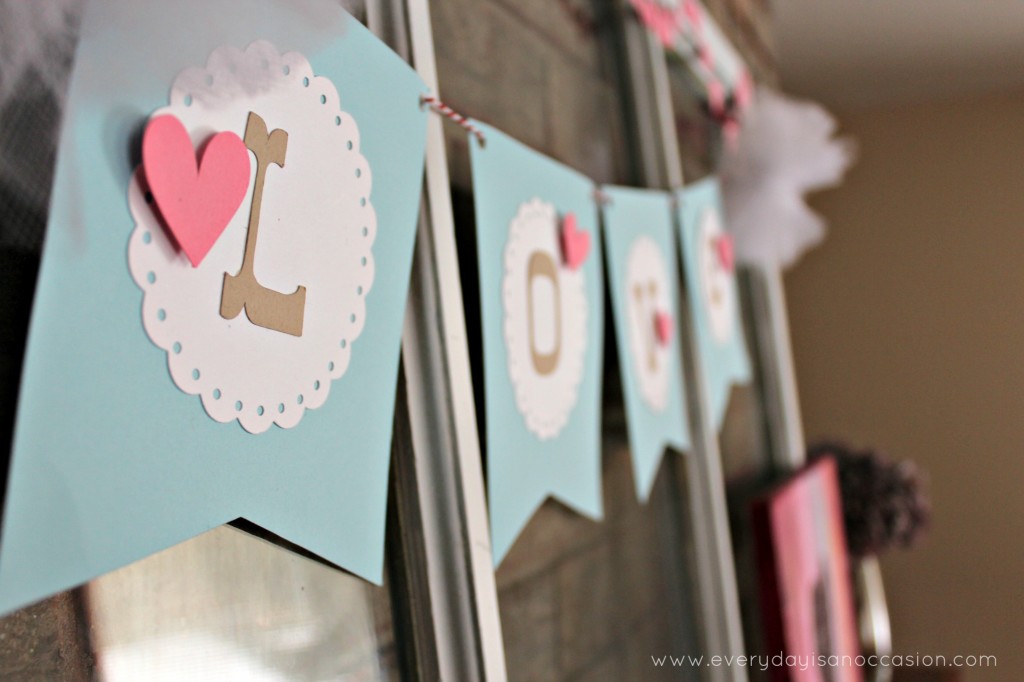 The heart banner I made with the Silhouette as well. I placed hearts on the page and then used the "fill" button. After they were all cut out, I literally ran them through the sewing machine. Just pushed them on through!

Way down at the other end, are dried hydrangeas that my Nana gave me. Can you see them? Hydrangeas are one of my very favorite flowers. My Nana loves to dry them and use them as decorations.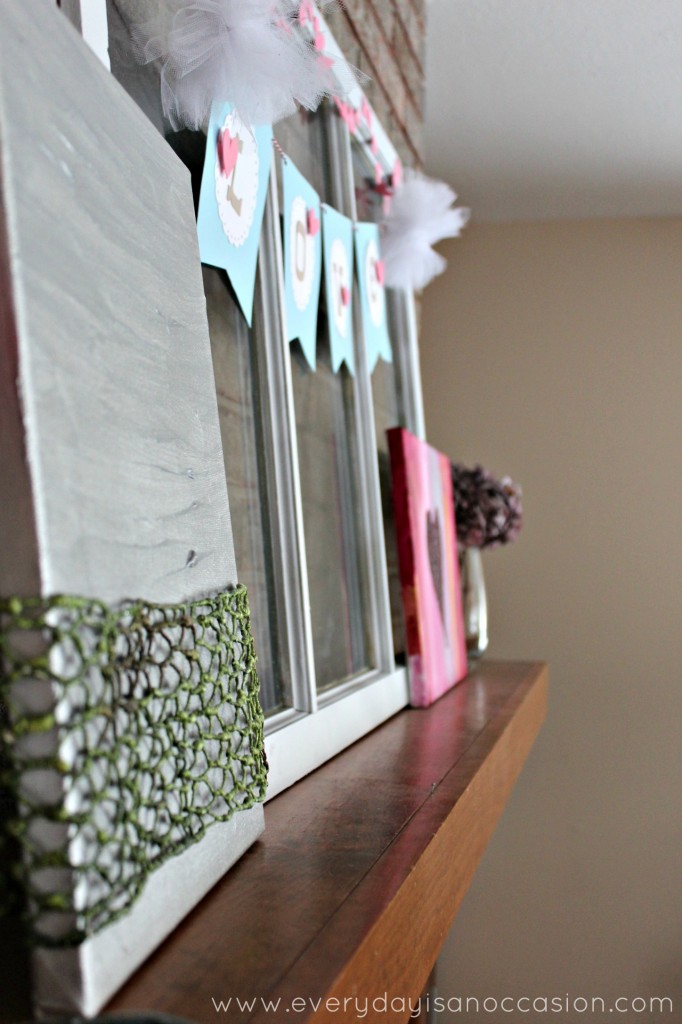 So there you have it my friends a brand new Valentine mantel. I most certainly miss my wreath from Holly, but maybe I'll make one some day or better yet, Holly will make me my very own for my birthday, wink wink*.
I have some blog candy for you! Woot Woot!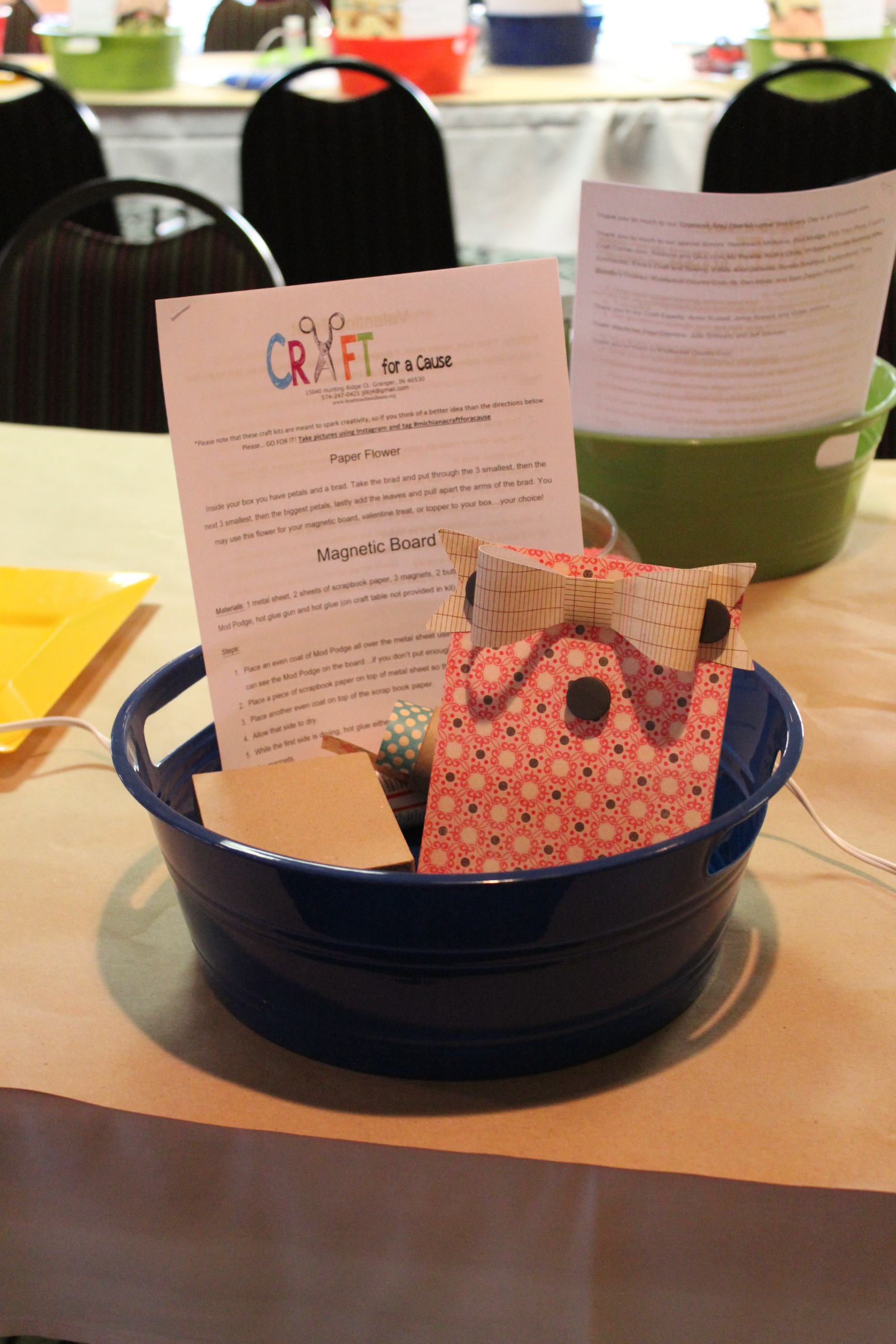 One of you will win a magnetic board kit, like the one we made at Craft for a cause.  Enter below
a Rafflecopter giveaway

Now hop on over to my blog bestie, Holly from Ribbon's and Glue to see what crafty creation she has come up with for you! Did I mention, she's the best?
Thanks SO much for stopping by!
Have a SUPER fun day!
Join our link party!
Upcoming posts: Sunday Funday Features, Breakfast Nook Decorations, Amy Clark with The Good Life for Less
Link love: Paper Issues, Decorate to Celebrate, Ribbon Carousel, Simon Says Stamp, I Gotta Create, 3 Girl Jam, Go Fish, Every Day is an Occasion, Little Scrap Pieces, DL.Art, I Heart Nap time, Party Time Tuesdays, Paper Issues, The Kraft Journal, DiY Dreamer
is the owner and operator of Every Day is an Occasion LLC. She designs for paper manufacturers and teaches craft classes. Her projects can be seen on the Disney Blog, HSN, WSBT tv, and published in craft magazines. She enjoys spending time with her husband, 2 children, and Rhodesian Ridgeback.