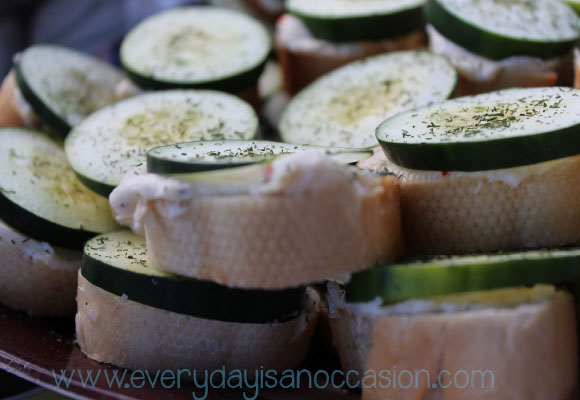 This is my sister in law's recipe that she found somewhere and has tweaked it to be her own.
She has been making these at all of our family get togethers because everyone LOVES them and can't get enough!
We like to call them Chanda's Cucumbers.
1 (8 oz.) pkg. softened cream cheese
½ cup mayonnaise or we use vegenaise bc it's healthier
1 pkg. Dry Italian salad dressing mix
2 loaves French Bread cut into 1 inch slices
2 cucumbers, sliced
Dry Dill weed for garnish
-Combine cream cheese, mayonnaise or vegenaise, and dressing mix. Refrigerate for several hours or overnight. Spread on each slice of bread, top with cucumber slice and sprinkle with dill. Serve immediately.Makes about 3 dozen.
NOTE: Especially good in summer when cucumbers are best.
Have a Super FUN day!
Linking up to Southern Institute, Lil Luna
is the owner and operator of Every Day is an Occasion LLC. She designs for paper manufacturers and teaches craft classes. Her projects can be seen on the Disney Blog, HSN, WSBT tv, and published in craft magazines. She enjoys spending time with her husband, 2 children, and Rhodesian Ridgeback.